Zotac to release ZBOX Nano mini-PCs powered by AMD's Ryzen and Vega chips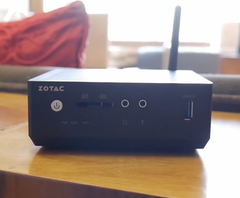 Zotac is the latest company to join AMD's mini PC initiative. For now, there is only a ZBOX Nano barebones model that is powered by the Ryzen 3 3200U APU with integrated Vega 3 graphics and support for up to 32 GB of DDR4-2400 RAM, but models powered by the new Ryzen 4000 APUs are also expected to launch later this year.
In late 2019, AMD was announcing its initiative to provide competitive alternatives for Intel's small form-factor NUCs, but, back then, only a few minor mini PC builders (plus ASRock) got onboard the hype train. With the announcement of the upcoming Ryzen 4000 APUs at CES last week, AMD apparently managed to convince even more SFF PC builders to join its "anti-NUC alliance," and one of the latest companies to adhere is Zotac.

Now, do not expect Zotac to go all in on AMD chips. At this point, the company only announced one model from the ZBOX Nano series, but hopefully, Zotac will provide AMD alternatives to its more advanced Magnus series that include discrete GPUs. Since the Nano series focuses on really small form-factors, Zotac only offers a Ryzen 3 3200U APU for now. This dual-core / quad thread 15W processor is powerful enough for a media player build, especially considering that it comes with a Vega 3 iGPU and support for up to 32 GB DDR4-2400 RAM via 2x SO-DIMMs.

The storage side includes support for a 2.5-inch SATA drive along with an M.2 slot for PCIe NVMe SSDs. On the rear panel, there are 4x USB-A 3.0 ports, dual GbE jacks plus wireless antenna support, and DP + HDMI outs, while the front panel features 2x USB-C 3.1 ports and another USB-A 3.0 connector, mic / headphone jacks, plus an SD card reader.

Zotac also provides a fanless version, which is slightly longer and bulkier. This one only integrates 4X USB-A 3.0 + 1x USB-C 3.1 connectors. No word on price and availability for now, but Zotac is expected to release versions powered by the new Ryzen 4000 APUs later this year.