The start-up Coolgeek has made a coffee table that is also a speaker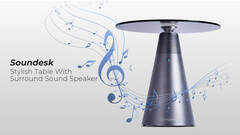 Need an original twist on the common-or-garden wireless speaker? The start-up Coolgeek might have you covered with their new Soundesk product. It is a round glass coffee table with a conical aluminum stand - that also houses a 360-degree speaker. The Soundesk can work via Bluetooth or an AUX cable for allegedly clear, high-quality sound.
Wireless speakers are great, but they may get in the way of furniture in smaller living spaces. This may be how Coolgeek got the idea to combine the two in a new form of coffee table. The result is the Soundesk, a possibly techie-directed table made of what is an apparently CNC-milled aluminium stand, that supports a tempered-glass top.
The Soundesk's stand also exhibits the series of drilled holes all around its upper edge necessary to release the audio produced by an array of 5 "high-fidelity" speakers hidden inside it. They are comprised of one bass, 2 full-range and 2 treble modules that deliver a total of 80 watts in stereo power. They deliver sound via Bluetooth or an AUX cable, in what Coolgeek indicates is a high-quality, 360-degree manner.
The Soundesk is powered by a battery that its maker claims has a standby time of up to 3 months, and takes 3 or 4 hours to charge via a USB type C cable. However, users may be underwhelmed by its capacity: it is rated for 4400mAh, or about the same as some 2019 flagship smartphones.
Those who would like a Soundesk may take a chance on one for a minimum of US$399, as a reward on Coolgeek's Kickstarter campaign for the speaker-table. To date, it has gathered $2855 towards its $10,000 goal with 28 days to go.