The 8K tech market will be worth US$68 billion in 7 years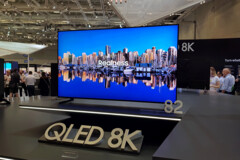 The 4K display standard is likely to be immediately succeeded by its 8K counterpart in the fullness of time. ResearchandMarkets has estimated that, even though this next-gen solution only pulled in about US$2 billion worldwide in 2017, this will increase to just over $68 billion in 2026.
Working For Notebookcheck
Are you a techie who knows how to write? Then join our Team! Especially English native speakers welcome!
Currently wanted:
News and Editorial Editor - Details here

Currently, 4K is everything in terms of new TVs. This display standard is also slowly taking over in the monitor and laptop screen spaces. It offers often demonstrable advantages over its predecessors, 2K and FHD, even if it can take a lot more to drive them and game on them. However, the mastery of 4K is being threatened by the inevitable next step in panel technology: 8K.
Then again, the 8K display market was only worth US$2.05 billion, according to the latest (2017) figures available to the analyst group ResearchandMarkets. However, the same firm also now estimates that it will gain a value of up to $68.13 billion by 2026. This means it will grow at an average compound annual rate (or CAGR) of 47.6%.
This impressive rate is projected to be driven by incentives given by certain governments in order to develop 8K technology. However, the natural evolution of the same, as well as growing demand for products of this resolution over the next 7 years, are also expected to play roles in the 8K market's expansion.