VLC 3.0 now available with 8K and Chromecast support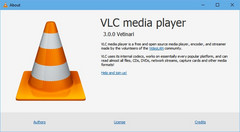 The first version of the "Vetinari" branch, VLC 3.0.0 is capable of streaming to Chromecast devices even in non-native formats, also supporting 4K and 8K hardware decoding on a wide range of devices, including Android flagships.
VLC has been around for ages, but lost me as a user a while ago. I can't remember exactly the bug/compatibility issue that was my reason, but I definitely can recall that I simply switched to another media player that did not give me any headaches. Now, I might return to it, although VLC might not become my main media player yet. The reason for this is the new version, which is labeled 3.0.0 and the first major update that hits all platforms at the same time.
Dubbed "Vetinari," VLC 3.0 comes with the following highlights:
8K support on a wide range of devices, including Android phones and tablets
streaming from PC to Chromecast hardware even in formats not natively supported by the latter (Chromecast streaming to PCs not yet supported)
improved subtitle support
HDMI/SPDIF pass-through for WASAPI
pitch shifting module
BD-Jave menus and overlay for Blu-ray
HDR10 support for PCs with Windows 10 Fall Creators Update
VLC for Android now supports picture-in-picture mode, Chromebooks, voice action support for Android Auto, and support for the desktop mode of Samsung's DeX station.
VLC is open source and completely free and can be downloaded on all major platforms. Sadly, the 64-bit version for Windows is not ready yet, but it will probably arrive as soon as possible. Those who cannot live with the 32-bit VLC 3.0 version can only download the 64-bit version of VLC 2.8 right now.