The micro-display market will be worth over US$3 billion by 2025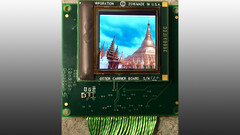 A micro-display is a panel that may be made of conventional materials such as OLED or LCD, yet are 2 inches at most on the diagonal. They are incorporated into everyday devices such as digital cameras, and in emerging categories such as heads-up or head-mounted displays. The latest research suggests that their market will be worth US$3.42 billion in the next 6 years.
The micro-display market is now projected to grow at an annual compound rate of 19.1%, until it attains a value of $3.42 billion in 2025. These components are based on common technologies such as OLED and LCD, but can also be made using the Digital Light Processing (DLP) or Liquid Crystal on Silicon (LCoS) platforms.
Micro-displays are strongly linked to consumer spending, as they go into products such as digital cameras, heads-up displays, head-mounted displays or rear-projection TVs. These buyers influence the market with an increasing trend toward a preference for high-performance micro-displays with improved refresh rates. In addition, consumer-grade micro-displays are as subject to the growing demand for OLED rather than LCD as are any types of screen.
However, these components also have applications in military and medical technology. In these areas, they are used to support monochrome night-vision, AR displays and patient-monitoring equipment. The micro-display market also benefits from an appreciable level of research and development. For example, Sony's Semiconductor Solutions division reduced the pixel size of a high-end UXGA OLED microdisplay engineered in 2018 to just 6.3 micrometers.