120 Hz QHD display option coming to the Alienware m17 this month; QHD and 4K options for the Area-51m later this year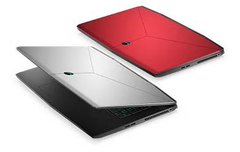 Both the Alienware m17 and Alienware Area 51-m laptops should be receiving new display options at some point in 2019. This is according to Dell's XPS and Alienware chief, Frank Azor, who has been spreading the good news on Twitter. Those interested in an Alienware m17 device will soon finally be able to choose the long-awaited 120 Hz display.
We already reported on Dell's intention to offer an Alienware m17 laptop with a 120 Hz panel back in January, but nothing has appeared since then, even though a Dell spec sheet specifically stated there would be a QHD 120 Hz display option. However, Dell XPS executive Frank Azor has once again enlightened his faithful public, this time with the news that the Alienware m17 with QHD 120 Hz screen will be available before the end of the month.
Presently, those browsing through the choices for the Alienware m17 can select either an FHD or UHD resolution for their laptop, and there is even an option of either Nebula Red or Epic Silver for the border color. But potential buyers are currently restricted to 60 Hz panels. The upcoming QHD 120 Hz panel will likely be a popular choice with hardcore gamers.
Furthermore, after being questioned about possible QHD and 4K options for the Alienware Area 51-m laptop, Azor offered the intriguing answer "closer to end of year – waiting on narrow border LCDs to be developed." At the moment, the Dell US configurator offers a top-end resolution option of FHD (1920x1080) for the Area 51-m, although shoppers can choose between 60 Hz and 144 Hz screens, with or without Nvidia G-Sync, and with or without Tobii eyetracking technology.
Dell's Alienware laptop line-up is already impressive, and these further configuration options and enhancements (such as tweaking the BIOS to allow for higher GPU TDP) certainly help demonstrate the company's commitment to gamers. Now it's just time to wait for Dell to start rolling out the promised OLED panels for the XPS 15 and Alienware m15.