Over 61% of all smartphone display panels are OLED now: new analysis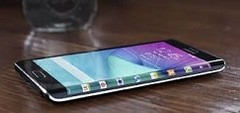 Less than 40% of all smartphones are thought to have LCD (or a variation on it) these days. This was reported as part of a new release from the analysis firm IHS Markit. It indicates that the type of panel once only associated with high-end Samsung phones are becoming much more commonplace and popular with manufacturers.
About 61% of all smartphones sold in 2018 have OLED displays, according to a new report by the market analysis group IHS Markit. Unsurprisingly, this makes Samsung the market leader in the supply of these displays. IHS Markit estimates that the company commands just over 93% of the revenue from the sale of this screen type.
Analysts attribute this shift in OLED's favor to their uptake in phones that tend towards the higher end of the market. For example, Apple has used the technology in its flagship iPhones for the first time this year. The use of 4K AMOLED in Huawei flagships may also account for some of the premium appeal they have gathered over recent years. Furthermore, companies such as OnePlus have a tendency to push various type of OLED as advantageous features in their products, as they produce more accurate blacks and save on battery life. Finally, these panels are becoming cheaper compared to LCDs, which possibly influences their popularity among more and more OEMs.
This trend became apparent in the third quarter of 2018; for comparison, in the first quarter of 2017, OLEDs occupied only 35% of this market. Therefore, the 'iPhone effect' has made itself felt in a relatively short time. The good times are possibly only going to continue to roll for OLED, as it is also strongly linked with the production of next-generation foldable smartphones.