Nebra AnyBeam projector's Kickstarter ends, exceeding its goal by 57%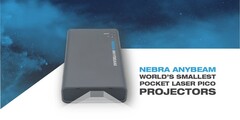 Nebra put its innovative projector, the AnyBeam, up as a reward for its crowdfunding campaign. The start-up claims that this product is the "world's first pocket laser projector". This, apparently, was quite the draw among backers, as this project has gained 1.57 times its original goal.
About a month ago (in April 2019), the start-up Nebra set up a Kickstarter campaign for its new product, the AnyBeam. This product was characterized as a "world first", in that it was purported as the first pico-laser projector in a 'pocketable' size on the market. Its maker asserts that it is an enhanced solution as it does not require bulbs, which may burn out or overheat a given device.
The AnyBeam may have been particularly attractive to tech enthusiasts, as it was available with a HAT mounting so that it could be attached to a Raspberry Pi and a developer's kit in which its basic internals could be incorporated into a custom housing, as well as its basic mini-projector form. These design choices may be what drove uptake of its rewards toward its original £40,000 (US$52,490) goal - and beyond.
This successful Kickstarter project ends today (May 6, 2019). To date, it has attained a total of $82,711 from 307 backers. Nebra estimates that it will start to deliver on backings by August 2019 at the earliest. If this applies to you, we hope you're able to enjoy your ultra-portable, laser-powered projections in a timely fashion.