LG ProBeam: Compact Full-HD Laser Projector will debut at CES 2017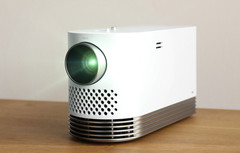 LG has announced, that it will show a new compact Laser Projector at CES next month. The LG ProBeam will deliver Full-HD resolution and up to 2,000 lumen while still being compact and portable enough to carry around.
LG has recently announced the LG ProBeam, the company's first Full-HD Laser Projector, that will debut at CES 2017 in Las Vegas early next year. Thanks to its compact size, its 4.6 pound weight and its sleek design, LG says, it will easily fit into any home and allow you to easily create a home theater experience. The 2,000 Lumen of brightness achieved by the laser engine might even work in a bright room although contrast will suffer of course.
The ProBeam runs on LG's smart TV platform webOS and comes with all the usual streaming apps from Netflix, Amazon or others while also allowing you to stream via any Miracast capable Windows- or Android device in your home. The LG ProBeam also allows you to connect to Bluetooth speakers and headphones wirelessly. We also learned from FCC documents, that the LG ProBeam is based on DLP technology. Pricing and availability will be announced at CES 2017.