The latest Radeon Software Adrenalin 2020 update brings support for the newest Dragon Ball Z title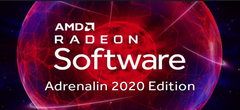 AMD has just announced the release of the latest version of Radeon Software Adrenalin 2020 Edition (20.1.2). It confers support for Dragon Ball Z: Kakarot, as well as Vulkan 1.2. It also fixes a problem for some UE4-based games in which they could not load under its predecessor.
AMD has released its latest Radeon driver updates. Known as Adrenalin 2020 Edition 20.1.2, it adds support for the latest Dragon Ball Z game, Kakarot (oh gee, wonder who that one's about). The new software is also now compatible with the latest form of the graphics API Vulkan (v1.2).
Version 20.1.2 of this software also addresses a bug in which Unreal Engine 4-based games such as Tetris Effect could not load on machines with Radeon drivers installed. It has also restored the ability of PCs with single displays and RX 5700-series cards to run without occasional reboots.
Then again, AMD has noted that this update may break integer scaling on devices that still run Windows 7. In addition, some Vulkan applications with concurrent Radeon Image Sharpening may crash during task-switching. In addition, specific titles such as Dragon Quest Builders 2 and Dead or Alive 6 may not run properly with this update.