Gigabyte confirms that the RX 5600 XT is still on the cards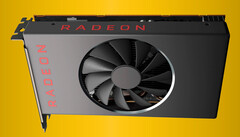 The Radeon RX 5500 XT may have just arrived, but do not forget that AMD is unleashing another mid-range in a few months. Expected to rear its head at CES next month, little is currently known about the RX 5600 XT, but Gigabyte has already confirmed its existence.
Were you disappointed by the RX 5500 XT? Fear not, as AMD has a proper mid-range desktop card in the works. First brought to our attention earlier this month by Videocardz, the RX 5600 XT has now appeared on a Eurasian Economic Commission (EEC) listing that the Commission published today. Registered by Gigabyte yesterday, the card forms part of new series called EAGLE, which contains at least 32 SKUs.
According to the registration, Gigabyte plans to release two RX 5600 XT EAGLE SKUs, each with 6 GB of VRAM. We already know from Videocardz that this will be 6 GB of GDDR6, which will operate on a 192-bit bus. However, the company has trademarked six other RX 5600 XT SKUs too. The eight trademarked names are:
GV-R56XT-6GD-B
GV-R56XTGAMING OCF 6 6 -6GD
GV-R56XTEAGLE OC-6GD
GV-R56XTOC-6GD
GV-R56XTGAMING-6GD
GV-R56XTWF2-6GD
GV-R56XTEAGLE-6GD
GV-R56XTD6-6GD
We suspect that this means Gigabyte also intends to release GAMING, D6 and WF2 versions of the RX 5600 XT, along with OC variants too. We are still in the dark about other specifications, including what GPU on which the RX 5600 XT will be based. However, we can have an idea of its pricing. The name RX 5600 XT would suggest that it will be more powerful than the RX 5500 XT, which currently retails for between US$200 and US$220. By contrast, the RX 5700 retails at US$349, so US$250 to US$300 would probably make sense for the RX 5600 XT. Videocardz asserts that more information about the RX 5600 XT will appear at CES next month.