RX 5600M benchmark leaks: nearly as fast as the notebook RTX 2060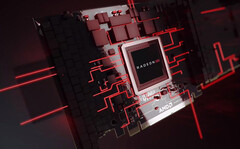 Leaked 3DMark scores spotted by _Rogame show what appears to be the RX 5600M paired with the unannanounced Ryzen 7 4800H. The mobile Navi card seems to perform in the same ballpark as the laptop RTX 2060. Is the purported 5600M set to become 2020's bang-for-buck laptop GPU?
As reported earlier, AMD is set to unveil new parts in its Radeon RX 5000 series at CES 2020. We'll most likely get official confirmation on the desktop RX 5600 XT there.
In the meantime, a recent Navi leak shows purported 3DMark Firestrike scores for a mobile variant, possibly the Radeon RX 5600M. @_Rogame spotted the 3DMark Firestrike benchmark, where the R7 4800H (an unannounced Renoir APU), is paired with an undisclosed Radeon Graphics GPU.
From the performance figures and the fact that the GPU features 6 GB of VRAM, this is likely the RX 5600M. The GPU was compared to a laptop with an i9-9880H and RTX 2060. The key takeaway from the Firestrike test is that the purported RX 5600M appears to perform on par with the mobile RTX 2060 (the full-fat mobile version, not Max-Q). It has an overall graphics score that's just 1.5 percent slower. It actually takes a trivial 0.6 percent lead in Firestrike Graphics Test 2. However the combined graphics+physics test hammers the 5600M/4800H combo hard. The combined score is 30 percent lower than the Nvidia/Intel laptop. This may indicate either lower sustained performance or CPU bottlenecking.
The leak indicates that RTX 2060 level performance might be about to get substantially cheaper. RTX 2060 laptops currently cost well in excess of US$1000. The 5600M/Renoir combo could potentially bring this level of performance down to midrange price-points.
Earlier, we spotted leaked benchmarks for the desktop RX 5600 XT. These figures seemed to show the RX 5600 XT performing well ahead of the GTX 1660 Ti, and within spitting distance of the desktop RTX 2060. The new RX 5600M figures correlate with the older leak. Together, they indicate that AMD's RX 5600 series might be Navi's most bang-for-buck outing yet.