First tests pitting the upcoming Intel Comet Lake-H i7-10750H against the AMD Ryzen 7 4800H and the Radeon RX 5600M against the refreshed Nvidia RTX 2060 Max-Q emerge on 3DMark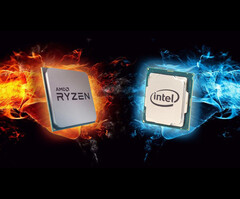 AMD's 7 nm APUs based on the Zen 2 architecture are expected to launch this spring and, based on what we've seen thus far in leaked benchmarks, it looks like AMD is really upping the game for mobility chips. The Ryzen 7 4800H, for instance, already appears to be on the same level with mid-range desktop chips like the Ryzen 7 2700X or Intel's i7-9700K. Like all new "Renoir" APUs, the 4800H comes equipped with an integrated Vega GPU sporting 7 compute units, so it can easily act as an entry-level gaming GPU, but how does this top-of-the-line chip fare when coupled with a dedicated Radeon RX 5600M mobile GPU? Fresh 3DMark tests show just how well this combo works versus its closest Intel competitor - the upcoming Comet Lake-H Core i7-10750H - coupled with the Nvidia RTX 2060 Max-Q.

As always, this is not a 1:1 comparison as far as the CPUs go, but the GPUs should be fairly similar. The AMD CPU has 2 more cores and 4 more threads, but it also has lower boost clocks by around 400 MHz compared to the Intel processor, and we already know that 3DMark favors higher clocks over core counts, so the comparison is balanced enough.

These latest 3DMark Fire Strike test results were spotted by Twitter user _rogame and show how the AMD chips mostly dominate the Intel and Nvidia ones. Also, keep in mind that these are pre-production samples, so performance could improve by release time, which should occur in March-April. When taken separately, the AMD chips are slightly faster than their counterparts, since the graphics benchmarks test the GPUs alone and the Physics benchmark tests the CPUs alone. However, it looks like the AMD chips are not yet optimized enough to work well together, as both combined tests go to the Intel + Nvidia combo by a small margin. Maybe AMD should focus on this aspect while it still has some time before the launch.

Also, have you seen those Radeon RX 5600 results? Disappointing 5600M specs? Clearly not the case. Lapotps sporting the Ryzen 4800H + Radeon RX 5600M combo are expected to cost US$800, and it will be interesting to see if Intel and Nvidia will get baited into more price cuts.
I first stepped into the wondrous IT&C world when I was around seven years old. I was instantly fascinated by computerized graphics, whether they were from games or 3D applications like 3D Max. I'm also an avid reader of science fiction, an astrophysics aficionado, and a crypto geek. I started writing PC-related articles for Softpedia and a few blogs back in 2006. I joined the Notebookcheck team in the summer of 2017 and am currently a senior tech writer mostly covering processor, GPU, and laptop news.