AMD's Ryzen 7 4800H mobile APU spotted surpassing Intel's Core i7-9700K desktop CPU in Time Spy benchmark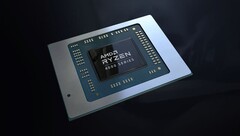 A noted data miner has dug out an impressive result for AMD's Ryzen 7 4800H in 3DMark's Time Spy benchmark. The Ryzen 4000 series chip from the new Renoir family of APUs amassed a total of 8,350 points in the test, putting it ahead of potential competitors such as Intel's Core i7-9700K, which managed 8,209 points in the same benchmark.
AMD's Ryzen 7 4800H APU is aimed at gamers and creators who also want to enjoy the performance of a high-end chip in a mobile format. The 8-core, 16-thread processor has a listed base clock of 2.9 GHz and a boost clock of up to 4.2 GHz. The 7nm Renoir chip is restricted by a default TDP of 45 W and features seven GPU cores.
The Ryzen 7 4800H already sounds like it could be a beast of a mobile processor, and thanks to Tum Apisak, we now have a Time Spy benchmark score so it can be easily compared to some of its fellow AMD products and the competition from Intel. The Ryzen 7 4800H APU reportedly scored 8,350 points, which puts it very close to AMD's Ryzen 7 2700X that amassed 8,609 points. However, the latter is a desktop processor that can rely on more power due to its 105 W TDP.
Other Ryzen desktop processors listed in Apisak's comparison include the powerful Zen 2 Ryzen 7 3700X (65 W TDP) on a huge score of 10,183 points, and he also mentions scores of 7,150 and 7,300 for AMD's mainstream hexa-core Ryzen 5 3600 (65 W TDP) and Ryzen 5 3600X (95 W TDP), respectively. Considering the Ryzen 7 4800H is designed for use in laptops with more limited cooling solutions and less physical space compared to desktop PCs, it stands out as an exciting result for those thinking about a purchase.
Intel's Coffee Lake Core i7-9700K certainly doesn't perform badly in the recorded Time Spy result, but the 9th Gen desktop processor can rely on a 95 W TDP compared to the Ryzen 4000 series APU's TDP of 45 W. AMD has made huge leaps and bounds in the cutthroat processor market, and it appears that results like this should lead to Team Red potentially making more gains on Intel in mobile CPU market share.