AMD extends mini PC support with new AM4 Pro 500-series chipset for budget builds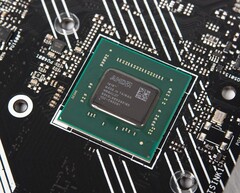 The official AMD site does not provide exact specs for the new Pro 500 chipsets, but it looks like Lenovo already plans to release some IdeaCentre ThinkCentre models that integrate a Pro 560 chipset. According to the Lenovo spec sheet, the Pro 560 chipset appears to support up to 32 GB DDR4-2666 RAM and is only compatible with the PCIe 3.0 standard.
The Pro 500 chipset series based on the existing AM4 socket will soon join AMD's small form-factor-oriented A300 and X300 models that were launched last year as part of the red team's initiative to provide competitive alternatives for Intel's NUC mini PCs. Unfortunately, the AMD site does not mention any specifications for the time being, but the guys over at Tom's Hardware did some digging and found that a Pro 560 chipset is to be included in Lenovo's IdeaCentre T540 and ThinkCentre M75s desktop models, which already have listed specs on the OEM site.

According to the IdeaCentre T540 spec sheet, the Pro 560 chipset supports Pro APUs like the Ryzen 5 Pro 2600, plus regular desktop CPUs like the Ryzen 5 3600 and Ryzen 7 3700X. The 560 denomination may suggest that this model is derived from the high-end X570 chipset. However, there is no PCIe 4.0 support on the Pro chipset, just the usual PCIe 3.0, presumably in 16 + 4 +1/1 lane configurations, as the spec sheet indicates the Lenovo systems come equipped with a discrete GPU and an M.2 PCIe NVMe SSD storage (along with SATA 3 HDD support), leaving room for two full length PCIe 3.0 1x cards. Even though it supports regular desktop CPUs, the memory controller appears to be limited to DDR4-2666 frequencies, so the system RAM may be auto-underclocked in this regard. Total amount of supported RAM is also reduced to 32 GB.

The motherboard integrating the Pro 560 chipset also comes with a diverse connector selection that includes 4x USB 3.1 Gen 1 + 2x USB 3.1 Gen 2 + 2x USB 2.0 ports, GbE jack, and front + back audio connectors via the Realtek ALC662 codec. WiFi and BLuetooth 4.2 connectivity is offered through an optional M.2 card.

Additional information about the Pro 500 chipset family should gradually become available as more mini PC manufacturers release systems based on this model.