AMD sees off NVIDIA RTX 2060 price cuts with 10-15% RX 5600 XT performance boost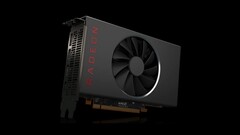 AMD and NVIDIA are locked in a battle for the midrange currently, with both manufacturers pulling moves to make their cards look more attractive. First we had NVIDIA, which cut the RTX 2060 by US$50, and now AMD has reportedly pushed out new firmware to AIBs to tweak their editions of the RX 5600 XT. The enhancements promise to bring up to 15% better performance and put the RX 5600 XT within spitting distance of the RX 5700.
While the RX 5600 XT has yet arrive in stores, there has been plenty of talk about AMD's upcoming midrange card lately. AMD announced the card at CES 2020 for US$279, to which NVIDIA responded by dropping the RTX 2060 Founders Edition to US$299, a US$50 reduction from its MSRP. While the price drop means that the Founders Edition is still US$20 more expensive than the RX 5600 XT, the former had faster VRAM and a higher memory bandwidth.
That was true until over the weekend when websites like Guru3D announced that AMD had released a new vBIOS to add-in board (AIB) partners to improve the performance of their cards. The RX 5600 XT is based on the same Navi 10 GPU as the RX 5700 series, so essentially AMD has unlocked some more of the former's potential to counter NVIDIA's price drop.
According to Tom's Hardware and @TUM_APISAK, the changes yield a 10-15% performance uplift in benchmarks and games. It remains to be seen whether websites will cover this difference in their reviews, though. Guru3D states that the enhancements will only go live on AIB cards, but we are yet to see confirmation of this.
Meanwhile, Videocardz has confirmed that ASUS, MSI, Powercolor and Sapphire will sell tweaked versions of the RX 5600 XT under their TUF, Gaming, Red Dragon/Devil and Pulse brands respectively. An overview of changes are as follows:
| | Radeon RX 5600 XT | AIB Radeon RX 5600 XT - new vBIOS |
| --- | --- | --- |
| Game clock | 1,375 MHz | 1,615 MHz/1,660 MHz |
| Boost clock | 1,560 MHz | 1,750 MHz |
| VRAM clock | 12 Gbps | 14 Gbps |
| Memory bandwidth | 288 Gbps | 336 Gbps |
| TDP | 150 W | 160 W |