Rumour | AMD is apparently planning 80 CUs and beyond for its 2020-bound "Big Navi" GPUs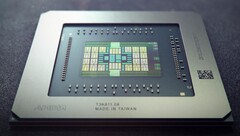 The RX 5600 XT has been well received so far, but a new rumour claims that AMD has 80 CU and beyond GPUs planned for this year. The lower-end model in what will supposedly be called the RX 6000 series will target the RTX 2080 Ti too, as AMD attempts to regain ground on NVIDIA's stranglehold of the high-end consumer GPU market.
AMD has already confirmed plans to bring "Big Navi" GPUs to market this year, but it is yet to state to what levels it plans to take its consumer cards. An alleged high-end Navi GPU has also appeared recently online on OpenVR, hinting that AMD has the RTX 2080 Ti in its sights. The next set of Navi GPUs will apparently support "considerably more Compute Units" (CUs) than the current crop too, owing to AMD's switch to its RDNA 2 architecture.
Now, a rumour from Chiphell claims that one such GPU will support 80 CUs. The post, which has been screenshotted by Guru3D, states that the 80 CU card is based on a Navi 21 GPU, references to which we last saw in June courtesy of a Linux driver patch. Apparently, an "engineering card has been sent to North America, [and] amd [has] began to test on the board". The RDNA 2 card is being evaluated against the RTX 2080 Ti too. However, AMD is purported to planning more than just Navi 21 cards too, something which another Linux driver patch posted in November hinted at too. According to the patch update, AMD is also working on Navi 22 and Navi 23 GPUs.
Styled as the RX 5800 XT by Guru3D, recent rumours about "Big Navi" imply that AMD will more likely market this 80 CU GPU as part of the RX 6000 series, instead. However, we would not rule out this being fake information for the time being, especially as we have no way to verify it.
Regardless, "Big Navi" is out there, but is AMD competing against the wrong yardstick? The RTX 2080 Ti will remain a powerful card for many years to come, but high-end Ampere GPUs, rumoured to arrive as early as March, will undoubtedly outstrip it. Hence, is NVIDIA destined to remain top dog in the consumer GPU market with AMD's apparent approach?