Rumour | More alleged NVIDIA Ampere GPU details leak — GA103 RTX 3080 could feature 3480 CUDA cores, 320-bit memory bus, and 20 GB GDDR6 RAM giving Big Navi a headache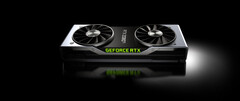 Details about NVIDIA's upcoming Ampere GPUs have leaked online, and it looks like we may in for a treat this year. We are getting to know a few hardware specs about two Ampere GPUs — GA103 and GA104, which could eventually be designated the RTX 3080 and RTX 3070, respectively. GA103 seems to offer a significantly higher CUDA core count and memory bandwidth compared to the RTX 2080 Super. The leak also seems to indicate that there is ample room for a GA102 RTX 3080 Ti, which could turn out to be a monster of a card.
NVIDIA is expected to launch new GPUs based on the Ampere architecture later this year, possibly even earlier during GTC 2020 in March. While details about the NVIDIA Ampere family are still largely speculative at this point, Chinese site MyDrivers is reporting the existence of two Ampere GPUs — GA103 and GA104.
GA103, which is purported to be the RTX 3080, is said to sport 3,840 CUDA cores, 60 streaming multiprocessors (SMs), a 320-bit memory bus, and a 10/20 GB GDDR6 memory. The GA104, on the other hand, will feature 3,072 CUDA cores, 48 SMs, a 256-bit memory bus, and 8/16 GB GDDR6 VRAM. The Ampere generation will support PCIe Gen4 and will be fabbed on a 7nm process most likely from TSMC, but we have also seen reports of Samsung offering to do the honors as well at much lower prices.
Now that we have the above information, it's time to don the speculation hat. The mention of GA103 is interesting as this is probably the first time we are seeing an xx3 moniker. This indicates that an even more powerful GA102 could be in the offing, and that could very well be the RTX 3080 Ti and consequently, a new Titan RTX. From the given specs, it looks like the RTX 3080 (GA103) could be a sizeable upgrade from the current RTX 2080 Super, which has 3,072 CUDA cores. We may also see higher clock speeds and improved power efficiency thanks to the transition to 7nm, which would make the RTX 3080 a very enticing prospect.
The leak indicates that GA103 has a 10/20 GB GDDR6 RAM. In all likelihood, the 10 GB RAM would be for the consumer versions while 20 GB would be limited to the Quadros considering rumors that memory shortage can be expected due to growth in demand for consoles. That being said, NVIDIA could still cram in 20 GB memory in a consumer card so your guess as good as ours at this point. Assuming at least 16 Gbps of memory speed, expect GA103 to sport a 640 GB/s memory bandwidth, which is a large bump from the RTX 2080 Super's bandwidth of 448 GB/s.
The RTX 3070 (GA104) looks to take the RTX 2080 Super's place with similar specs of the latter, but there's a good possibility of increased memory bandwidth up to 512 GB/s. The more important take-home message from this leak is that there is still a lot of scope left for the RTX 3080 Ti to emerge as an unbeatable flagship. Word on the street is that Ampere could offer up to a 50% performance improvement over Turing with improved RTX and compute abilities.
All this means that AMD could be in hot soup once again. We have to wait till Big Navi launches during Computex 2020 to see what value AMD would bring to consumers.