Possible NVIDIA Ampere GPUs with up to 7552 CUDA Cores and 48 GB VRAM rip through Geekbench 5 OpenCL tests, nearly 39% faster than a Titan RTX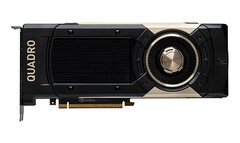 Two possible NVIDIA Ampere GPUs with high CUDA Cores and memory capacities were spotted on the Geekbench 5 OpenCL benchmarking site. One of the GPUs with 7,552 CUDA Cores and 24 GB RAM scored 184,096 points in OpenCL beating the Titan RTX by nearly 39%. These GPUs are likely to be datacenter parts and are specced lower than the full GA100 Ampere chip.
Known leakster @_rogame managed to unearth Geekbench 5 OpenCL scores of what appear to be unidentified NVIDIA GPUs. Although the scores themselves were recorded late last year, it is only now we are getting to know about them. While little information about the cards can be deduced from the Geekbench entries, the OpenCL scores themselves are through the roof.
The first entry is of an NVIDIA GPU with 118 compute units (CUs) or 7,552 CUDA cores, a maximum frequency of 1.11 GHz, and 24 GB of memory. This card scored 184,096 points in the Geekbench 5 OpenCL benchmark. The other entry also pertains to an NVIDIA GPU — this time with 108 CUs or 6,912 CUDA Cores, 1.01 GHz max clock, and 46.8 GB (reported) of VRAM. This GPU scored 141,654 points in the same test.
For perspective, a GV100 scores 142,837, a Tesla V100 scores 154,606, and a Titan RTX manages about 132,804 in the same benchmark. Assuming the entries do pertain to Ampere, we are looking at a nearly 39% increase over the Titan RTX when taking into account the card with 7,552 CUDA Cores and about a 6.7% improvement when considering the GPU with 6,912 CUDA Cores.
Apart from the above info, there's not much that can be deduced from the results themselves. Although the CUDA core counts are high, we do know by now that this is not the full chip. That honor goes to the GA100, which is supposed to be the full version of Ampere with 8,192 CUDA Cores. We also do not know whether the listed memory is GDDR6 or HBM2/2e.
Going by the staggering number of CUDA Core counts and memory, it is very well possible that we are looking at a Tesla GPGPU. Consumer GPUs such as the purported RTX 3080 based on the GA103 chip will make do with 3,480 CUDA Cores and 10/20 GB 320-bit GDDR6 memory, according to what we've known so far.
With GTC 2020 all set to go on as scheduled (even though it will be online-only), we may get to see NVIDIA announce some architectural details about Ampere during Jensen Huang's expected keynote on March 23. We will bring you all the juicy details in the run-up to the event so, stay tuned.