Opinion | The existence of the AMD Radeon RX 5700M could be good news for consumers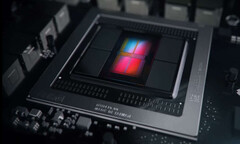 A new leak has verified the existence of the Radeon RX 5700M, a mobile GPU that may put AMD on a more level playing field with NVIDIA. The new information confirms that AMD has greater plans for its Navi architecture than merely the Radeon RX 5300M and RX 5500M, which should be music to the ears of content creators and gamers alike.
A USB-IF post spotted by popular leaker @momomo_US suggests that could be about to change, though. The leaker has not revealed any details of the card but has provided a screenshot of their findings, a copy of which we have included below. The tweet reads AMD Radeon RX 5700M Graphics, a mere reiteration of the only information of use contained within the accompanying screenshot.
If the comparative performance of the Radeon RX 5700 is anything to go by, then the Radeon RX 5700M could be AMD's answer to the GeForce RTX 2060. We doubt that the Radeon RX 5700M would reach Geforce RTX 2070 or RTX 2080 levels, but it could allow AMD to gain a foothold in the premium laptop GPU market. We would not rule out AMD having a Radeon RX 5900M up its sleeve too, as the company appears to be preparing other Navi GPUs for release too.
Nonetheless, the Radeon RX 5700M could be good news for consumers. Not only may we see RX 5700M versions of multimedia laptops like the 16-inch MacBook Pro, but the gaming laptop market may receive a shake-up too. Ultimately, this should improve the number of laptops for people to choose from, while it may even encourage competition from NVIDIA too.