Existence of the AMD Radeon RX 5500 XT confirmed by GPU-Z days ahead of its release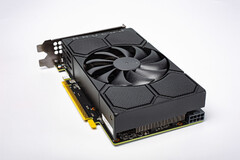 This month's update to GPU-Z has an AMD flavour it. The popular GPU utility not only addresses some VRAM reporting and detection issues of AMD GPUs, but it also adds support for the Radeon Pro W5700. The Radeon RX 5500 XT has been added to the list of supported graphics cards too, days ahead of its official unveiling.
While AMD is yet to officially announce the Radeon RX 5500 XT, its next desktop graphics card, TechPowerUp is confident that the GPU will arrive soon. The company has already updated GPU-Z with support for the RX 5500 XT, just three days before add-in-board partners (AIBs) announce their SKUs. The RX 5500 XT, to recap, is expected to be based on AMD's Navi 14 GPU and will feature 1,408 stream processors, along with up to 8 GB of GDDR6 VRAM. The card will likely cost around US$200, with Videocardz asserting that its product launch will launch at 13:00 GMT.
Currently, the consensus is that the RX 5500 XT will be a re-badged version of the RX 5500, as we reported last week. AMD is yet to confirm this, though. While AMD sells a reference version of the RX 5500, it only does so in pre-built units. Conversely, AIB versions of the RX 5500 XT have already been spotted online, so the two RX 5500 cards would not be direct competitors.
GPU-Z v2.28.0 adds supports for not only the Radeon RX 5500 XT but also the Radeon Pro W5700, a workstation based on the same GPU as the RX 5700 series. The update to the GPU utility also brings introduces the following:
Added support for upcoming AMD graphics driver
Fixed VRAM reporting on 4 GB Navi cards to show correct value
Improved detection for AMD RX 470D, RX 560 Mobile, Picasso, Raven Ridge
Fixed clock readings on older ATI graphics cards
Added DirectX Support reporting for ATI R200 GPUs