The fitness tracker market may reach US$5 billion in 5 years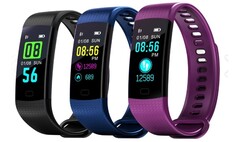 The latest report on the health- and fitness-tracker market shows that it may achieve a valuation of as much as US$5 billion by 2025. This may be driven by the increasing number of applications and functions for these devices. They may in fact improve to the point that they can be used to help diagnose and prevent illnesses in the future.
Fitness trackers already represent a vibrant market today. However, it may grow into a multi-billion dollar industry by 2025. This potential may be based on their increasing uptake among the ageing population, who may benefit from their use in terms of remaining independent, tracking their chronic conditions or summoning medical professionals if necessary.
In fact, it seems the wearables in question could improve in terms of accuracy and functionality until they are suitable as clinical devices in addition to consumer-grade ones. Some have already demonstrated the potential to track the development and progression of conditions such as influenza today.
The latest report on this subject also suggests that wearables for health and fitness may also integrate with applicable internet-of-things (IoT) systems in the future in order to deliver their use-cases. Their market may also benefit from new developments in tech and the materials of which they are made, flexible electronics and components included.