Smart home market to exceed US$90 billion by 2025: new report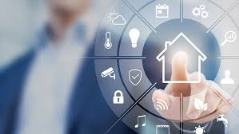 Smart home technology has definitely caught on by now, with many people automating or controlling their living spaces with new products designed to be integrated into them. A new market research report suggests that the market built up around this trend is worth billions now and will be worth even more in the future.
Working For Notebookcheck
Are you a techie who knows how to write? Then join our Team! Especially English native speakers welcome!
Currently wanted:
News and Editorial Editor - Details here

The smart home, or connected home, is a concept that has really come to fruition in the last few years. It is based on technology designed for residential spaces that control various appliances or activities within it. Besides this, units that can be voice-controlled and respond to the user with their own AI-powered voices are also central to smart home delivery. They include smart speakers or devices such as Google Home, Amazon Alexa and the Apple HomePod.
Therefore, like it or hate it, the smart home seems to be here to stay. A new report released by Transparency Market Research estimates that its market was worth just over US$30 billion in 2016. This is apparently built on its uptake in regions such as North America; the area now represents 38.7% of the global smart home market.
Transparency also now predicts that this market will be worth US$97.6 billion by 2025. This is apparently being driven by increases in the levels of disposable income to spend on such products and in the volume of smart-home devices or sensors per house. Transparency has also found that the most popular forms of smart-home technology are those that control or provide entertainment systems, home security or indoor lighting. However, environmental control (e.g. devices that run air filters) is also a prominent application for smart home technology.
Trends such as these may be what is driving more and more tech companies (even OnePlus) into the connected or smart home space.