Samsung reportedly sows confusion over the Galaxy Home Mini and its launch date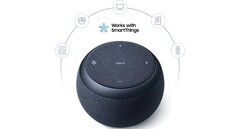 Samsung has been linked to an upcoming budget smart speaker since 2018. More recent reports appear to confirm that this device will be called the Galaxy Home Mini and that it would launch on February 12, 2020. An even newer leak asserts that this date has in fact been pushed up a bit.
Samsung's Galaxy Home was this OEM's first smart speaker when it launched alongside the Note 9 in 2018. However, the product had been plagued with delays and uncertainty since then. Furthermore, its more affordable counterpart has been equally elusive as a device and a subject of leaks - until now. A new rumor indicates that it has been issued a launch event, and that it is scheduled for February 7, 2020.
To be more accurate, this is the second such date attributed to the Galaxy Home Mini, a device that is also thought to look much like the Google product of an inescapably similar name. However, the putative Samsung alternative is said to set itself apart with added AKG branding, a potential detail that hints at relevant audio optimizations for this speaker.
The conflicting reports as to its launch event began with references to an allegedly official Samsung article setting this date for February 12, 2020. However, this post was subsequently removed from the company's domestic website - according to the site TizenHelp, at least. The same blog then claimed that the Galaxy Home Mini event had been moved up to February 7 (or 2 days from now) instead.
Should this indeed be the case, this budget smart speaker is currently also believed to be exclusive to the South Korean market at first (which may explain why it may not be a part of the more global Galaxy S20 event on February 11, 2020). It is rumored to cost 99000 won, or the equivalent of US$84, in this country.