Huawei's new 40-watt, 12000mAh power bank set for April 11 release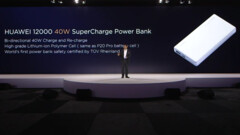 Huawei is set to release its latest power bank for sale for the first time in China. This will take place in the coming week (on April 11, 2019). The OEM alleges that this power bank is compatible with devices that can charge at 40 watts. This includes the P30 line of smartphones, as well as some Matebooks.
The latest Huawei power bank will be available for purchase in its home market in 4 days from now (April 11, 2019). This is in accordance with an announcement by the OEM's Head of Mobile Devices, Li Xiaolong, reportedly made on Weibo. This new product, the SuperCharge 12000, is intended to be compatible with the most recent flagship phones made by the company, the P30 and P30 Pro.i
These devices can charge at 40 watts (W), which is also the maximum output of the SuperCharge 12000. Huawei asserts that this power bank can also charge non-Huawei devices, including the Nintendo Switch and numerous Apple products. It could, for example, power a 2018 MacBook Pro, although it is not clear if this laptop could operate at full performance while doing so.
The SuperCharge 12000 also reportedly supports Qualcomm QuickCharging and USB Power Delivery as well as Huawei's own proprietary system. It will retail for approximately 747 yuan (€99, or US$111) when it goes on sale next Thursday.