Huawei does not rule DxOMark rankings outright: Samsung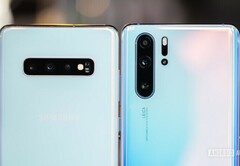 Huawei broke records in terms of DxOMark camera ratings when it released the P30 Pro. The OEM has been touting it as a major point of the phone's appeal ever since. Its rival Samsung has pointed out that this situation is not the whole picture.
Huawei made a point of highlighting the new camera tech and abilities of the P30 Pro during its launch event not long ago in Paris, France. The OEM also took that opportunity to announce the phone's DxOMark score for the photography in question: 112. This achievement empowered the Chinese electronics giant to assert that the new flagship is currently at the top of the reviewers' rankings for smartphones.
According to Huawei's logic, the P30 Pro thus occupies the #1 spot in this list, followed conveniently enough by its own Mate 20 Pro and P20 Pro into second and third place respectively. It follows that the competing Android OEM Samsung's Galaxy S10+ flagship is knocked down into fourth place. The Korean firm has taken issue with this interpretation of these scores.
Samsung points out that the 112 score is for photography only, and that DxOMark habitually also assigns separate scores for another main aspect of smartphone camera-work: selfies. As the Galaxy S10+ scored 96 (far more than any Huawei phone) it in fact beats the P30 Pro's total score, and thus deserves the top spot. This works out well for the Galaxy Note 9 also, as it beats the Mate 20 Pro to take a cumulative second place.
This point in Samsung's favor was outlined in a poster made and posted by the OEM's official Weibo account. However, it should be noted that DxOMark is just one system of review; real-world assessments and different testing systems also have value when judging smartphone shooting prowess.