Mediocre at best: DxOMark takes issue with the rear and selfie cameras in the Sony Xperia 1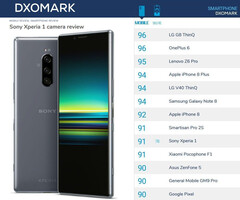 The camera benchmark website DxOMark has just released its in-depth analysis and extensive review of the rear-facing and selfie cameras in the Xperia 1, and it is not good news for Sony fans. As we discovered in our recent review, the Xperia 1 has sub-par cameras for a modern flagship.
Sony aimed high with the Xperia 1, with it using its 21:9 aspect ratio display to distinguish it from other flagships. However, while the Xperia 1 has an excellent display, its cameras underwhelmed during our tests. Now, DxOMark has drawn a similar conclusion, having performed extensive camera tests and analysis. In short, the cameras in the almost US$1,000 Xperia 1 fall well short of other comparably priced flagships.
While the Xperia 1 has triple rear-facing cameras like many other flagships, DxOMark found them severely lacking in its standardised tests. Likewise, it found comparable issues with the 8 MP and f/2.0 front-facing camera with which Sony equipped the Xperia 1.