Honor MagicBook with AMD Ryzen 5 3500U will be released on April 17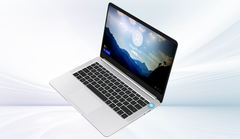 A 2019 refresh of the 14-inch Honor MagicBook is going to be released on April 17, according to a Chinese retailer. The main difference between the upcoming version and the 2018 laptop is a processor upgrade: Last year's AMD MagicBook variant came with a Ryzen 5 2500U, whereas the 2019 model will be fitted with a Ryzen 5 3500U APU.
A new version of the 14-inch Honor MagicBook is to be released next week, and it has already been listed for reservation on a Chinese retailer's website. Honor's MagicBook can be configured with either Intel or AMD processors, and in this case it is the AMD variant that is getting refreshed. The APU is getting a bump up from the Zen-based Raven Ridge Ryzen 5 2500U to the Zen+ microarchitecture-based Picasso Ryzen 5 3500U.
The 2019 Honor MagicBook with AMD's Ryzen 5 3500U also features 8 GB RAM and a choice between a 256 GB SSD or a 512 GB SSD. There are even two colors listed for the refreshed MagicBook: Glacier Silver and Starry Sky. It seems the laptop will be released in China on April 17, but there's no telling if it will come to other markets, and there's no confirmed price. The 2018 AMD Ryzen 5 2500U-powered Honor MagicBook cost from around 600 Euros (~US$676).
It's been claimed that the Ryzen 5 3500U 2019 Honor MagicBook can offer a 10% performance increase over the previous iteration. Checking over numerous benchmarks shows the Picasso APU can certainly outperform the Raven Ridge chip by at least 4-5%, and the tweaked iGPU (Radeon RX Vega 8) should definitely offer improvements in graphics performance.