A GeForce GTX 1650 laptop can perform nearly as well as the GTX 1060 in DX12 titles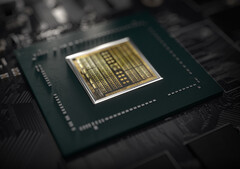 The mobile GeForce GTX 1650 is just 5 to 10 percent slower than the average GTX 1060 according to 3DMark benchmarks while costing a few hundred dollars less. It's a worthy successor to both the GTX 1050 and GTX 1050 Ti as the mobile GTX 1660 Ti is currently overpriced for what it offers.
Working For Notebookcheck
Are you a techie who knows how to write? Then join our Team! Especially English native speakers welcome!
Currently wanted:
News and Editorial Editor - Details here

The budget GeForce GTX 1650 has arrived on laptops to replace the last generation mobile GeForce GTX 1050. Existing owners of a GTX 1050 laptop have a pretty good reason to upgrade to this latest GTX 16 Turing GPU as the performance benefits are substantial at up to 100 percent on DX12 titles. For owners of a GTX 1060 laptop, however, the results become a bit more mixed.
According to our first GTX 1650 3DMark benchmarks on an Acer Nitro 5, GPU performance in the DX12-enabled Time Spy scene is just 5 percent slower than the average laptop equipped with GTX 1060 graphics. Meanwhile, performance in the DX11-enabled Fire Strike scene is 20 percent slower than the average GTX 1060 laptop. Users who intend to play mostly newer titles with DX12 support can save a few hundred dollars by purchasing a GTX 1650 laptop instead of a GTX 1060 laptop and still get nearly the same gaming performance. The MSI GL63 with GTX 1650 graphics, for example, is currently shipping for $800 compared to $1000 or $1100 for the MSP GP63 with GTX 1060 graphics.
The performance-per-dollar of the GTX 1650 is also impressive when compared to the next step up: the GTX 1660 Ti. While the latter option offers 60 to 70 percent faster graphics performance, prices start at $1400 USD or about $500 more than the latest GTX 1650 laptops. We recommend going for an RTX 2060-powered system if you plan on spending that much on a gaming laptop or waiting until prices for the mobile GTX 1660 Ti drop closer to the $1000 mark.
See our review page on the GeForce GTX 1650 for more technical information and our benchmarks page for more gaming comparisons.