iPadOS 16 Beta 1: 4 notable enhancements for pros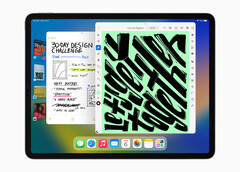 The choices and comments made on this list belong solely to the author.
1. Stage Manager
With iPadOS 16, users owning the latest-gen iPad Pro or the recently released iPad Air (5th generation) will be able to take advantage of a new multitasking interface called Stage Manager. The feature, which remains exclusive to iPad devices equipped with the M1 chip, enables multi-window support on the iPad for the first time.
At the tap of a button, the Stage Manager automatically groups recently used applications into dynamic stacks of apps with up to eight overlapping windows. Similar to macOS, iPad users will soon be able to resize windowed apps with ease and grouped apps can be customized to create user-specific workflows.
2. Improved external display support
Beginning with the 2018 iPad Pro, users could mirror the display of an iPad to an external monitor using a USB-C cable. The longstanding functionality has been widely criticized by casual and professional users of the iPad over the years with many users calling upon Apple to add more Mac-like productivity workflows for users with external displays.
In iPadOS 16, users will have the ability to access the dock and multiple window views from a separate display using the Stage Manager. Another feature limited only to iPad devices powered by the M1 SoC, the new feature supports displays with resolutions up to 6K and enables multi-window drag and drop for files between apps. Unlike Stage Manager on a standalone iPad, the new external monitor support requires users to forgo their fingers in favor of a dedicated keyboard and mouse/trackpad.
Users who own Apple's Magic Keyboard with trackpad will be able to utilize full keyboard and cursor functionality while their iPad is docked in the case. Stage Manager additionally supports Apple Pencil functionality while connected to a display.
3. Expanded display modes
Though Apple has marketed the iPad as a must-have device for creative professionals, it's highest-end iPad Pro featuring a mini-LED display lacks notable support for devoted reference modes utilized by color-grading professionals and various other media editors alike. With iPadOS 16, users will be able to toggle between reference modes for popular color standards, including additional support for SDR and HDR video formats.
Mac users can even utilize their iPad Pro as a standalone wireless reference monitor using the Sidecar feature, which debuted back in 2019. Similar to the Mac, users running iPadOS 16 will also gain the freedom to enable a display-scaling mode on M1-powered iPad models that increases pixel density to fit even more information on the screen at a glance, which is critical while leveraging multi-window or split view workflows.
4. All-new Freeform app
Coming later this year, a new iPad app called Freeform will build on the existing capabilities of the FaceTime platform to enable a collaborative conferencing experience centered around a unique digital idea board.
Collaborators will be able to join in on a video call that allows them to contribute to an expansive multimedia canvas in real time. The dynamic platform includes support for sketching with the Apple Pencil, sharing various file types, and instant-access to a sharing screen to add on contributors.
Self-proclaimed coffee connoisseur and tech enthusiast Brahm Shank is captivated by the impact of consumer tech: "It's profoundly moving when people discover that the phone in their pocket or the tiny computer on their wrist has the power to enrich their lives in ways they never imagined." Apple, Inc. and its unique position at the intersection of technology and the creative arts, resonates deeply with Brahm and his passion for helping people unleash their potential using technology. Over the years, Brahm has held various podcasts - including famed technologist David Pogue of The New York Times on topics such as Big Tech and digital wellness.