iOS 16 Beta 1: 4 radical new features debuted at WWDC22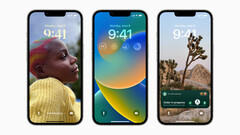 The choices and comments made on this list belong solely to the author.
1. The lock screen reimagined
In iOS 16, users will be able to tap and hold on the lock screen to enter an editor that will allow them to personalize their iPhone by customizing fonts, photos, and widgets. Similar to Google's Material You interface, the lock screen in iOS 16 generates wallpaper-specific color palettes for UI elements, while also utilizing portrait photographs to add nuanced depth-of-field enhancements.
Apple Watch users will likely find the new widget interface intuitive, which enables glanceable glyphs for dynamic information like weather, Apple Watch battery, and AirPods connectivity. Notifications now appear from the bottom of the screen, allowing convenient one-handed access akin to Samsung's One UI, while a new API unleashes real-time updates for information such as food delivery, ride sharing, and sports scores.
2. Stay focused
The next release of iOS streamlines Focus Mode configurations by offering users the ability to tie various lock screen setups to personal, work, sleep, and do not disturb modes. The tap-and-hold gesture from the Apple Watch is now available on the iPhone lock screen, unlocking instant focus mode activations with a simple tap and swipe gesture.
In the Mail app on the iPhone and iPad, focus filters will automatically hide distracting content like junk mail by automatically pinning your contacts to the top of a user's list of unread messages.
3. Live Text gets even smarter
Apple originally debuted Live Text in iOS 15, allowing users to draw contextual information from photos using machine learning. This year, the feature takes a huge leap forward, adding the ability to copy, paste, look up, translate, and more from photos and videos.
Mirroring longstanding Google Lens functionality, Live Text now allows users to translate languages and convert currencies by long pressing on numerals or words in the Camera app.
4. iMessage plays catch-up
A host of iMessage improvements coming in iOS 16 will have users of other messaging platforms like Discord, Telegram, and WhatsApp saying "finally". Shortly after sending a message, users will have the ability to quickly unsend or edit a message.
User will also be able to mark messages unread as a reminder to respond later. New controls under group chat settings include instant-access buttons for initiating a SharePlay or document collaboration session.
Self-proclaimed coffee connoisseur and tech enthusiast Brahm Shank is captivated by the impact of consumer tech: "It's profoundly moving when people discover that the phone in their pocket or the tiny computer on their wrist has the power to enrich their lives in ways they never imagined." Apple, Inc. and its unique position at the intersection of technology and the creative arts, resonates deeply with Brahm and his passion for helping people unleash their potential using technology. Over the years, Brahm has held various podcasts - including famed technologist David Pogue of The New York Times on topics such as Big Tech and digital wellness.