watchOS 9 Beta 1: 5 highly underrated features coming to your wrist this fall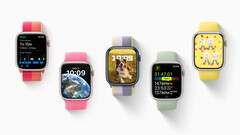 The choices and comments made on this list belong solely to the author.
1. Type with ease
With watchOS 9 QuickType comes to the Apple Watch for the first time. The feature, which originally debuted on the iPhone and iPad with iOS 8, uses a predictive text engine to conveniently offer up subsequent words that are tailored to a user's distinct vernacular.
Typing on a smartwatch was already a tedious task. Thankfully, QuickType can help speed things up when typing out long-form messages. Note that the QuickType feature in watchOS 9 is exclusive to only the newest Apple Watch Series 7.
2. New workout views
While recording workouts in watchOS 9, users can use the Digital Crown to smoothly scroll through a vertical carousel of various fitness interfaces, each featuring differing metrics and data visualization methods. Fitness views include a new power meter for runners, a glanceable view for activity rings, elevation, and heart rate zones. Users will additionally have the ability to map out workout plans ahead of time with customizable routines for warmups, intervals, and recovery.
Runners can also opt-in to receive pace reminders, motivating them to stay steady during a run. Much like a real-life version of a Nintendo game, runners will even have the freedom to race against themselves while repeating a route. For swimmers, SWOLF scores and kick board detection will allow users to accurately track their stroke efficiency. Triathletes will benefit from a new feature that automatically transitions between swimming, biking, and running.
3. Manage medications
Apple Watch users running watchOS 9 will gain the ability to track and manage medication/vitamin intake from their wrists. Users can configure the new Medications app to issue them discreet reminders to take meds, vitamins, and supplements while logging intake throughout the day via a one-tap toggle. Users running iOS 16 on the iPhone XS and later can use the camera to automatically scan and enter pills into the Meds app.
4. Bold watch faces
Three new watch faces, including Metropolitan, Playtime, and Lunar, make their debut in watchOS 9. The Metropolitan watch face issues a modern take on traditional timekeeping typography with tightly formatted san-serif numerals that can be adjusted dynamically using the Digital Crown.
A collaboration with esteemed artist Joi Fulton, the Playtime watch face delivers a whimsical approach to watch face design with numerals adopting an anthropomorphic form. The Lunar watch face enables users to celebrate calendar timekeeping using the phases of the moon with dedicated Chinese, Islamic, and Hebrew calendar settings.
The portrait and astronomy watch faces are also remastered. Portrait watch faces now feature compatibility for pets while refreshed depth-of-field layouts for the earth and the moon illustrate a unique parallax effect.
5. Breakthrough heart health tracking
Apple Watch users suffering from Atrial Fibrillation can activate an added feature called AFib History in watchOS 9. The feature will allow the Apple Watch to estimate how frequently a users heart is in arrhythmia and suggest lifestyle changes that may reduce the amount of time a user spends in AFib. The innovative health-monitoring tool is only available for users 22 years or older on the Apple Watch Series 4 and later.
Self-proclaimed coffee connoisseur and tech enthusiast Brahm Shank is captivated by the impact of consumer tech: "It's profoundly moving when people discover that the phone in their pocket or the tiny computer on their wrist has the power to enrich their lives in ways they never imagined." Apple, Inc. and its unique position at the intersection of technology and the creative arts, resonates deeply with Brahm and his passion for helping people unleash their potential using technology. Over the years, Brahm has held various podcasts - including famed technologist David Pogue of The New York Times on topics such as Big Tech and digital wellness.