Xiaomi Mi TV 4S: 65-inch UHD TV comes to Europe for €549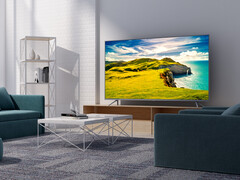 Xiaomi is bringing the 65-inch version of the Mi TV 4S to Europe. Launching in June, the Mi TV 4S 65" will retail for €549 and features a native 4K resolution, HDR10+ certification. The Android TV also has stereo speakers onboard and offers support for DTS-HD and Dolby Audio.
Xiaomi started bringing its acclaimed Mi TV series to Europe last year, and now it is doing the same with the Mi TV 4S 65". The 65-inch device will make its entry in June, with Xiaomi stating that it will cost €549 from Authorized Mi Stores.
Xiaomi equips the TV with a 4K panel that supports HDR10+, which should deliver crisp visuals. Actual image quality can only be determined in practice, though. The Mi TV 4S 65" comes pre-loaded with Android TV 9.0 Pie, along with apps like Amazon Prime Video, Netflix and YouTube.
Additionally, the TV includes two 10 W speakers that support DTS-HD and Dolby Audio. In terms of connectivity, Xiaomi has included an Ethernet port, three USB ports and three HDMI ports. Naturally, the TV supports Bluetooth and Wi-Fi connectivity too. The TV also has 2 GB of RAM and 16 GB of internal storage.
It remains to be seen whether the Mi TV 4S 65" will receive a Europe-wide release, or will only be sold in select markets. Nonetheless, it will be an interesting option for those who are in the market for a budget 4K TV this summer.