Why is it called the XPS 15 7590 and not the XPS 15 9580? Dell explains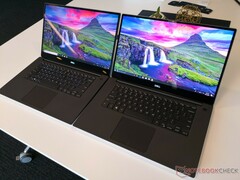 Dell is throwing a curve ball this year to how it is naming its 2019 XPS 15. To the average consumer, however, the change may be a little confusing. The new 7xxx series will directly succeed the older 9xxx series even though the first digit is lower in order to align the XPS series with the 7xxx Inspiron, Vostro, Latitude, and Precision families.
Users who have been following the yearly XPS 15 updates should be very familiar with the naming convention of the series: The 2013 XPS 15 was the XPS 15 9530, 2015 to 2016 was the XPS 15 9550, 2017 was the XPS 15 9560, and 2018 was the XPS 15 9570. It stands to reason that the impending 2019 model would be called the XPS 15 9580. To our surprise, this will apparently not be the case.
Dell has announced the 2019 XPS 15 7590 at this year's Computex in Taipei to directly replace last year's XPS 15 9570. The system will have a re-positioned webcam a la the latest XPS 13 with Intel 9th gen H-series CPUs up to the octa-core Core i9-9880H and Nvidia GTX 16 graphics up to the GTX 1650 non Max-Q version. It will also come with the same OLED panel option as found on the current Alienware m15 series.
So, why the sudden name change? According to Dell's XPS product manager, the intention is to put the XPS 15 in line with the current naming convention of the Inspiron, Vostro, Precision, and Latitude series. The high-end SKUs for each of these families always begin with 7xxx followed by the mid-range 5xxx and budget 3xxx. Thus, the XPS 15 7xxx will imply a high-end SKU as well since no other family carries a 9xxx SKU.
If we are to look ahead, a hypothetical XPS 15 7590 successor in 2020 may be called the XPS 15 7500 or something similar. Thus, next year's model could potentially introduce a complete redesign of the four-year-old XPS 15 chassis especially since the upcoming 2019 refresh will be relatively minor.
The announcement comes at the same time as the reveal of the second generation XPS 13 2-in-1 series.