The Redmi 7 makes it to its first Western market: Ukraine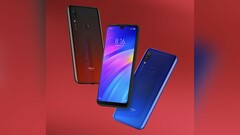 Xiaomi has a thriving presence in Ukraine, with numerous physical stores and online sales through partner websites. This now extends to the new Redmi 7, the second device line to be sold under the OEM's latest sub-brand. Its availability has been announced on Mi Ukraine's Facebook page.
The Redmi 7 was just released in China as a solid budget mid-ranger with the Snapdragon 632 SoC, 2 to 4 GB of RAM and a 6.26-inch HD+ LCD display. It may be a compelling option for those who want long battery life with those specs: it packs a 4000 mAh battery. This phone was initially only available to customers in its own home country, but has since travelled to another.
Ukraine appears to appreciate Xiaomi phones; the country is reported as having 60 Mi Stores and also buys this hardware online. It may be for this reason that the Redmi 7 is now being sold here. This move was announced on Facebook 2 days ago (March 19, 2019).
According to this post by Mi Ukraine, it has been in physical stock in the country since March 20. This regional release may be followed by others in different countries where Xiaomi (and, by extension, Redmi) has become popular. These include some Western European nations such as Spain and the UK.