The Red Magic 3 gaming smartphone gets a price cut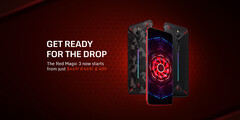 The Red Magic 3 was the first phone to launch in 2019 with a 90 hertz (Hz) refresh rate in its AMOLED display. Now, its maker Nubia has announced a new discount for the phone. But is it worth holding out until its next generation is released?
Nubia made the Red Magic 3 the first gaming phone with a 90Hz AMOLED screens in 2019. Therefore, even though its successor is slated to have an even higher refresh rate, it may still be one of the best mobile displays on the market. Now, its OEM has discounted all its available SKUs.
However, it should be noted that it has only done so by US$10, which is a little low for a company with what should be a substantial update in the works. Therefore, it may come down by even more when this Red Magic 5G is launched (although this has been postponed due to the current coronavirus epidemic). In any case, the 3's 8GB RAM variant is now US$469, whereas its 12GB top-end units are now $589.
However, their series' 3s, which is a refreshed version of the 3 with a Snapdragon 855+ SoC, remains at its original price. We found that this phone's screen (also 90Hz) may have an improved color-accuracy compared to its immediate predecessor. Ultimately, it may be best to wait until all 3 phones mentioned here are released before making a purchase decision.