Deal | Funcl TWS Bluetooth 5.0 earbuds are half off this week for only $20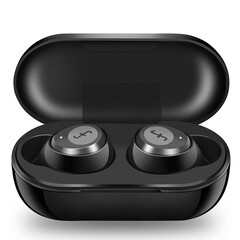 Did you just spend a fortune on a Samsung Galaxy S20 and need a new pair of wireless earbuds? The absence of the 3.5 mm audio jack is becoming easier to swallow now that Bluetooth earphones are getting cheaper.
More and more manufacturers are omitting the tried-and-true audio jack from their latest smartphones to the chagrin of most consumers. Luckily, wireless earbuds or Bluetooth-enabled earphones have been steadily dropping in price to make them more affordable than ever. You won't need to buy those $159 Apple AirPods when alternatives exist for a fraction of the price.
The Funcl TWS earbuds normally retail for $40, but they are only $20 this week on Amazon with the coupon code 'XE4RTGLM'. The buds come with a charging case, have a built-in microphone, and have been designed to exploit the benefits of Bluetooth 5 for reduced latency and easier pairing. The manufacturer is promising up to 14 hours of use before needing to recharge.
Notebookcheck receives no commission from the sale of these Funcl earbuds. In the meantime, check out our comparison page here on three popular TWS earbuds currently in the market.