Samsung will begin LPDDR5 and UFS 3.0 production in 2H 2018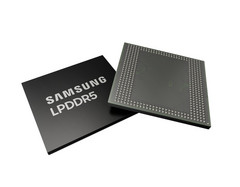 Judging by the latest leaks, Samsung is most likely preparing major overhauls for next year's Galaxy S10 / Note 10 high-end devices. Apparently, Samsung is planning to begin production on the LPDDR5 and UFS 3.0 chips later this summer and this could significantly boost the overall performance for the 2019 models. Moreover, it looks like the Galaxy S10 could finally get 4K video recording.
Even if the ninth generation of Galaxy S / Note high-end smartphones seems to bring minimal upgrades to last year's models, sales are still going well for Samsung, and, according to new leaks, the 2019 devices will make up for this year's unexciting upgrades.

Ice Universe is back with a new leak, this time pointing out that Samsung is ready to start manufacturing LPDDR5 and UFS 3.0 chips for mobile devices in the second half of 2018. From what the leaker says, it looks like these technologies will be integrated in the Galaxy S10 and other high-end products coming next year. Note 9 comes out this August, but there is no way Samsung can equip it with these 2 new techs, since the production stage comes before the sampling one.

First of all, UFS 3.0 storage chips will boost the read/write speeds in general, but this will mainly benefit photos and [email protected]+ fps videos. It could be a hint that Samsung also intends to implement 4K video recording with the upcoming Galaxy S10 and Note 10.

Getting to the new LPDDR5 memory chips, these should bring around 10% increased performance (3,600 Mbps per pin as opposed to 3,200 Mbps per pin for LPDDR4) and 15% improved energy efficiency over the current gen. Desktop DDR5 is also expected to launch later this year, but LPDDR5 is said to be a tad more efficient since it uses a smaller bit bus.

As the new technologies get released, Galaxy S10 prototypes could emerge in Geekbench tests towards the end of the year, and we'll be getting some more leaks by that time, hopefully.