Samsung still biggest smartphone company in the world as Xiaomi goes after Huawei's place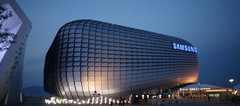 A comprehensive report has shown Samsung's dominance over the global smartphone market in Q1 2018, Xiaomi's almost palpable growth, and the extreme competition in the Asian smartphone market.
A report by Counterpoint Research has detailed the global sales numbers of the smartphone market over the first three months of the year.
Going by the report, South Korean giants Samsung find themselves firmly at the top. The company shipped 78 million smartphones to take a massive 22% global market share. Apple shipped 52.2 million units giving it 15% of the pie, Huawei came in third with 11%, Xiaomi fourth with 8%, and OPPO fifth with 7%.
Across the various continents, sales figures were slightly more varied. Samsung retained its grip over Europe with a 33% market share. Apple, Xiaomi, Huawei, and—surprisingly—HMD completed the top five spots with shares of 20%, 15%, 4%, and 2%. The last two are, without a doubt, the most impressive on the list. HMD only just began selling smartphones at the start of 2017, and Xiaomi started its journey to the west around the same time.
In North America, Apple came in first with a whopping 38% of the pie. Samsung, LG, ZTE, and Lenovo followed dutifully with 27%, 14%, 11%, and 4% market shares respectively.
The Asian market was the most competitive. Huawei, Xiaomi, Samsung, and OPPO were the top four brands in the market, but all four had 13% market shares respectively. Apple followed immediately behind with a 12% share.