Samsung hit with massive fine for slowing down devices with updates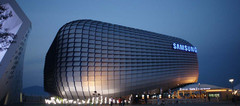 Samsung was nabbed slowing down devices with its software updates and has been hit with a $5.7m fine in Italy. This comes after Apple was caught doing the same thing earlier in the year, although the American company did have plausible reasons—unlike Samsung.
Planned obsolescence isn't a rare word anymore, as more and more companies have been caught dipping their hands into the dastardly pie of cajoling consumers into paying for a newer model of a product. The latest company in the long line of culprits is Samsung, as the South Korean giants have been discovered to be slowing down devices with software updates—and fined as a result.
Earlier this year, it was found out that older iPhones were slowing down. Apple confirmed the phenomenon to be intentional, as it downclocked its SoCs in order to prevent random shutdowns that would have been caused by degraded batteries. During that period, Samsung claimed it would never do something similar, which makes this new development a tad embarrassing for the world's biggest smartphone company.
Italy's Consumer Watchdog has confirmed that Samsung updates are making older devices slower, though, and has hit the company with a sizeable $5.7m fine. While this fine isn't particularly notable to a corporation like Samsung, it's always good to see companies being paid back in their own coin—no matter how inconsequential the payback may seem.