Huawei reportedly shipping Mate 9 and P10 models with slower eMMC storage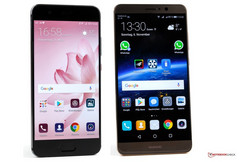 Huawei originally advertised the Mate 9 with UHS 2.1 storage, but some units are purportedly shipping with the slower eMMC 5.1 standard without any official statements from the manufacturer. Furthermore, sources say some advertisements have been silently changed to reflect the switch to eMMC 5.1.
Working For Notebookcheck
Are you a techie who knows how to write? Then join our Team! Especially English native speakers welcome!
Currently wanted:
News and Editorial Editor - Details here

Huawei has apparently been quietly changing the specifications on its current smartphones and users are beginning to notice. In particular, The current Mate 9, P10 and P10 Plus smartphones are now shipping with either fast UFS 2.1 storage or slow eMMC 5.1 storage. Even the RAM modules may differ between LPDDR3 or LPDDR4 with no way to actually know before purchasing.
Large Performance Differences
In our review of the Mate 9 and P10, we highlighted the fast UHS 2.1 internal storage as one of the many positives of the smartphones. Our Mate 9 and P10 test units were able to achieve sequential read speeds of 594 MB/s and 737 MB/s, respectively, which are impressive numbers in the smartphone category. In comparison, standard eMMC 5.1 storage will typically return an average read speed of 250 MB/s. Thus, users who have purchased a P10 smartphone and have unknowingly received a model with eMMC storage would be getting the short end of the stick.
According to a Twitter post from popular tech enthusiast Ronald Quandt, Huawei has responded stating that its marketing team never advertised specific storage or memory specifications in the first place, so the manufacturer never technically promised fast UFS 2.1 storage for all of its units.
Quandt has found Huawei's claims to be unsubstantiated as the Mate 9 was originally advertised with UFS 2.1 storage only to be later removed in its advertising fliers. A Google cache version (as linked below) shows an older Mate 9 advertisement clearly stating UFS 2.1 storage as a feature, but the current Mate 9 page is conspicuously missing this line. The Chinese manufacturer has yet to publicly respond to this find.
We recommend all customers who already own a Mate 9, P10, or P10 Plus to run the appropriate tests in order to identify if the smartphone is equipped with eMMC or UHS storage.