Urban Armor Gear Plasma Series cases for Huawei P10 and Mate 9 now available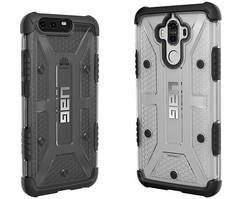 These new rugged cases offer improved protection for all the latest Huawei P and Mate flagships - P10, P10 Plus, Mate 9, and Mate 9 Pro. These cases are all compatible with the fingerprint sensor and comply with the MIL-STD-810G military standard.
Urban Armour Gear is well known for its rugged protective cases for smartphones and has recently introduced such accessories for the Galaxy S8 and Galaxy S8+ flagships. Now, those who enjoy Huawei's latest top-of-the-line handsets can take advantage of the protection provided by the Plasma Series cases by UAG as well.
The latest UAG cases that join the Plasma Series and target Huawei's most potent handsets meet the requirements of the MIL-STD-810G-516.6 standard, also offering a light composite construction that integrates a non-slip ruggedized grip, scatch-resistant skid pads, fingerprint reader compatibility, as well as easy access to all ports and the display.
Huawei Mate 9 and Mate 9 Pro owners can get the UAG Plasma Series case in ice (transparent) finish, while those who use a Huawei P10 or P10 Plus flagship can choose between ice and ash (gray transparent). In both cases, the manufacturer's recommended price is the same - $39.95 USD.