No surprises here: The Samsung Galaxy Note 9 is hard to repair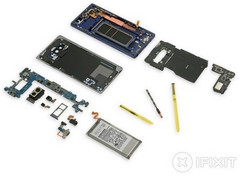 With a repairability score of 4 out of 10 awarded by iFixIt, the Samsung Galaxy Note 9 is considered to have a nicely laid out modular internal design that only uses standard Philips screws. However, to service any of the internal components the glass rear panel must be un-glued (and reglued at the end), and replacing the display is also very hard to do.
Fixing many of today's smartphones can be quite a nightmare, especially when the problem that needs to be solved consists of a broken/defective display. Sadly, the Samsung Galaxy Note 9 is not a wonder from this point of view, as shown by the recent teardown that this device has been put through by the popular tech website iFixIt.
According to the aforementioned website, the Galaxy Note 9 is "very (very) similar" to its predecessor, only being slightly wider and shorter, as well as "a hair thicker" with 8.8 mm vs. 8.6 mm. After tearing down Samsung's latest high-end phablet, these are the conclusions reached by iFixIt:
the components are "more modular than ever" due to the subtle changes that were done to the USB-C hardware, headphone jack, and the flex cable of the S Pen dock
the only screws used are standard Philips screws
replacing the battery requires to go through "two extremely stubborn glue barriers" that Samsung should have avoided using
the glass rear panel must be un-glued and re-glued before/after servicing any internals
to service the display, the entire chassis must be replaced — if not separating the gluey cracked glass, which is a quite tedious task
All in all, the Samsung Galaxy Note 9 is a fine flagship — at least as long as it does not need a battery replacement or any kind of repair that involves an internal component. Given the 4 out of 10 repairability rating awarded to Samsung's latest flagship handset, would you consider buying another high-end device? Let us know about your Galaxy Note 9 alternative in the comments.