EE and Virgin Media fined £13.3 million by Ofcom for overcharging hundreds of thousands of customers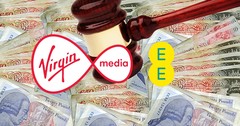 The British regulator Ofcom has announced that it has fined EE and Virgin Media £6.3 million (~ US$8.035 million) and £7 million (~ US$8.928 million) respectively. The regulator has fined the two companies principally for overcharging early-exit fees to hundreds of thousands of customers and for not explaining contractual terms clearly enough.
The Office of Communications (Ofcom), the regulator for broadcasting, telecommunications and the postal industries in the UK, has announced today that it has fined EE and Virgin a combined total of £13.3 million (~ US$17 million) for overcharging customers early exit fees.
The regulator stated that EE had incorrectly charged 400,000 customers on 'discount contracts' early-exit fees for its more expensive tariffs, while Virgin Media had charged 82,000 of its customers higher early-exit fees than those that had been stated in its contracts. Ofcom claims that both companies failed to make contractual terms clear enough for customers to understand, while their excessive early-exit fees disincentivised customers from switching to other carriers.
EE and Virgin Media have already refunded millions of pounds of the early-exit fees, but Gaucho Rasmussen, Ofcom Director of Investigations and Enforcement explained that:
"...These fines send a clear message to all phone and broadband firms that they must play by the rules, in the interests of their customers."
EE has accepted Ofcom's findings and has made its terms about early-exit fees clearer while also significantly reducing its charges. Ofcom reduced its fines by 30% for EE because the latter admitted that it had overcharged some customers. Virgin Media has made similar changes to its contractual terms and early-exit fees, but the company is appealing the decision. Moreover, Ofcom fined Virgin Media an additional £25,000 (~ US$32,000) for failing to provide the full information for which the regulator requested to conduct its investigation.