Kodi 18 "Leia" release candidate now available for download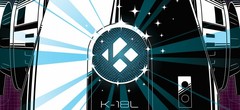 Kodi 18 has been in development for two years, and the first release candidate (RC 1) is finally available. Although it is still technically a beta version, RC 1 will be reflective of the final release. There are several new features, including better Android TV support, a 64-bit version for Windows, and a new gaming section with support for emulators.
It's been a long time coming, but the newest version of the popular open-source media player Kodi is almost ready for release. The Kodi team made the first release candidate, Kodi v18 "Leia" RC 1, available for download today.
You can think of a "release candidate" as a beta version of software that has a good shot of being the final full release. As such, many of the features and aesthetics of this release candidate will be reflected, if not fully preserved, in the full release of Kodi 18. This release candidate should also be stable enough to use regularly, though the developers are quick to point out that this is still technically an unstable release.
Kodi hasn't seen a stable update for about 2 years. Consequently, there are quite a few changes coming with Kodi 18. These include (but aren't limited to):
A new Games section with support for retro emulation (via Retroplayer) and game controllers
Support for streaming services that use DRM
Support for modern Xbox consoles
A 64-bit binary for Windows
Support for Linux video drivers via Generic Buffer Manager (GBM) and Video for Linux (V4L2)
Support for SD card installation on Android
Improved support for Android TV features, including voice-to-text and search
The new version will drop support for Windows Vista. Kodi has had to drop support for older operating systems with each new release, and Kodi 18 finally bids Vista farewell. The development team cited the fact that Vista no longer receives security patches as the reason.
The first release candidate for Kodi 18 can be downloaded at the Kodi website. Select "Downloads," select your operating system, and then select "Pre release [sic]" to get it.