Next-gen Neural Machine Translation now available in Microsoft Translator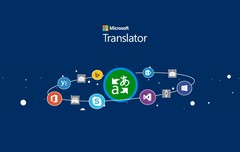 Although Microsoft Translator supports over 60 languages and 12 speech languages, the next-gen Neural Machine Translation improvements are only available for Chinese and German from/to English translations for now. More languages will be supported by the new system — which brings an 11 percent in overall quality — starting in early 2019.
"Based on human evaluations using industry standard test sets, we are seeing up to 11% improvement in overall quality. The improvement is compared to our previous production API," reveals the Microsoft Translator team. In some cases, this overall improvement leads to a huge difference between the old and new translations. For example, check the German to English translations below:
Source: Jemand hat heute über diese Männer gewacht.
Old: Someone woke up about these men today.
New: Someone watched over these men today.
The example below shows a noticeable change in the Chinese to English translations:
Source: 该地区有不少房屋及车辆受损。
Old: There are many damaged homes and vehicles in the AREA.
New: A number of homes and vehicles have been damaged in the area.
According to Microsoft, more languages will be supported by this advanced translation system starting in the first part of next year. Now, Microsoft Translator supports over 60 languages, including 12 speech languages in the mobile apps for Android, iOS, and Windows 10.