Samsung Galaxy Note 9 looks 90% the same as Note 8 in leaked CAD-based renders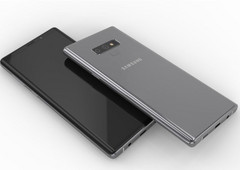 The guys over at Mobile91 got their hands on 36-degree renders for the Note 9, and it looks like the rumors were spot on about virtually unchanged designs when compared to the Note 8. The front was already leaked by Ice Universe in May, but now we get to see the back and it it's almost the same, as well, with the small difference in the position of the fingerprint sensor.
The note 9 was already pretty much confirmed to be very similar to the Note 8, as revealed by Ice Universe in a tweet from last month, but the latest leaks from 91Mobiles actually present 360-degree CAD-renders that depict the back of the phablet, as well. Apparently Samsung wants to cut down production costs and allocate that money for R&D.

Looking at the front renders, the Note 9 is practically unchanged from its predecessor, and the fact that Samsung did the same with the Galaxy S9 models should tell us that the Korean company is pouring serious money into research and development for upcoming devices. However, the back seems slightly modified, having the fingerprint sensor positioned under the dual camera now. Samsung could have still done a better job with it and not position horizontally instead of vertically.

Here is a quick rundown of the changes brought by the Note 9 in case you haven't read the previous rumors. Being a bit shorter and wider than the Note 8, this year's model will get a heftier 3,850 mAh battery. The camera setup will most likely be improved, featuring something similar to the 12 MP + 12 MP setup from the Galaxy S9+. Samsung will also include a new S Pen stylus.

Industry insiders are expecting the Note 9 to be unveiled on August 9, and prices should be very similar to last year's model.