Samsung Galaxy Note 9 to launch on August 9 with improved camera setup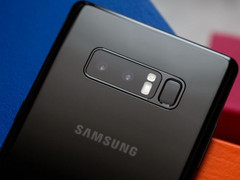 Bloomberg informs that sources familiar with Samsung's plans claim that the Note 9 is going to be officially unveiled on August 9. The phablet might not be so different from last year's model after all, but at least it is getting a SoC upgrade, improved battery and even an improved rear dual camera, according to Bloomberg's source.
Initial leaks about the Galaxy Note 9 from Samsung revealed that this year's model will not get any significant upgrades over the 2017 one. Meanwhile, there was some speculative info regarding specs such as 8 GB of RAM and 512 GB storage that might find their way into the Note 9 coming from famous leaker Ice Universe, but the latest Geekbench sightings still present a 6 GB RAM version. Bloomberg went ahead and dug deeper, finding out that the Note 9 will still get an upgraded rear camera setup.

Samsung already confirmed that the virtual fingerprint sensors could not make it on the Note 9 and will be featured in next year's Galaxy S10 / Note 10 versions. Naturally, the Note 9 will at least get a SoC upgrade, but Bloomberg claims that insider sources found out the rear camera setup will feature improved sensors, as well. However, the actual specs are not specified, so last year's 12 MP + 12 MP setup could be boosted to 16 MP + 16 MP.

Moreover, Bloomberg sources are quite certain that the official unveiling of the Note 9 will occur on August 9 (how about that?). If the rumored lack of new features is confirmed by the official announcement, fans can safely skip this year's model and save up for the 2019 models that should come with 5G support, virtual fingerprint sensors and hopefully an innovative design.