Micron starts mass producing 12 Gb LPDDR4x DRAM chips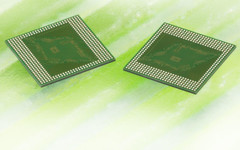 Micron has announced that it has commenced mass production of the industry's highest capacity monolithic 12 Gb LPDDR4x DRAM for mobile devices. The latest LPDDR4x chips aim to offer double the memory capacity while consuming lesser power and still retaining the same footprint as the previous generation.
Micron has started mass producing its LPDDR4x DRAM chips fabricated using the 1Y-nm (10 nm) process. Micron says that its new chips are the industry's first high-capacity monolithic 12 Gb mobile DRAM modules and they are capable of up to 10% lesser power consumption than the previous generation for similar data rates at up to 4,266 Mbps.
Micron is not alone in the LPDDR4x market, though. SK Hynix introduced 16 Gb LPDDR4x chips back at the start of 2017. Micron's 12 Gb capacity is lower, but it allows the company to offer lower-cost quad-die solutions than the competition. LPDDR4x has an output voltage of just 0.6 V compared to 1.1 V in LPDDR4, which translates to increased power efficiency for mobile devices. Micron says that these higher DRAM capacities are required to support the increasing use of AI and AR in mobile devices. With the imminent arrival of 5G handsets next year, having denser memory with higher data rates will help in faster real-time processing of data.
The memory semiconductor market is controlled mainly by Samsung, SK Hynix, and Micron. In fact, Samsung had already announced plans for bringing LPDDR5 DRAM to market by H2 2018 but that date has now been pushed to 2020 with both Samsung and Micron expected to kick off LPDDR5 production sometime next year. Till then, LPDDR4x should provide the needed data rates and power efficiencies for the upcoming crop of mobile devices.