SK Hynix reveals 1Ynm 16 Gb DDR5 DRAM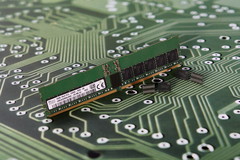 SK Hynix has published a press release to announce the development of 16 Gb DDR5 DRAM, the first in the industry that meets JEDEC standards. The South Korean memory manufacturer has managed to lower the operating voltage for the DDR5 DRAM in comparison to DDR4. The new generation of DRAM is also considerably faster than its predecessor.
A press release from SK Hynix has offered details about its 1Ynm 16 Gb (Gigabit) DDR5 DRAM. The memory module was developed with the same technology the company used for the 1Ynm 8 Gb DDR4 DRAM, which SK Hynix believes gives it a leading edge over its main competitors.
The new 16 Gb DDR5 DRAM apparently manages a data transfer rate of 5200 Mb/s, which is an increase of over 60% compared to its predecessor (3200 Mb/s). The operating voltage has been reduced from 1.2 V to 1.1 V, which according to SK Hynix's press release will offer 30% lower power consumption for the new generation of DRAM.
The high-speed DDR5 DRAM, which meets JEDEC standards, can process data at an impressive 41.6 GB/s. Mass production of the new memory module is expected to begin in 2020, with the press release adding a forecast from IDC in regard to DDR5 uptake: It could gain 25% of the DRAM market by 2021 and 44% by 2022.